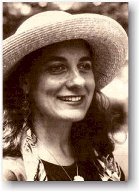 About Dr. Roxanne
MindWorks for Children was founded by Roxanne E. Daleo, Ph.D., a Health Educator who taught at Harvard University Health Services. Trained in relaxation and stress reduction techniques at the Harvard Medical School, Division of Behavioral Medicine, her work is based on extensive experience with children and adults. Dr. Daleo also studied the use of symbols for healing from the C. G. Jung Institute in Zurich, Switzerland.

For the past fifteen years, Dr. Daleo has worked as clinician, instructor and consultant in a wide variety of business and health care settings. She has designed and produced audio-visual programs for patient education, health promotion, and creative arts therapies and has developed play therapy programs for the chronic and terminally ill.

In addition to MindWorks, Dr. Daleo conducts stress management workshops for professionals and develops health promotion programs for educators and health care practitioners.